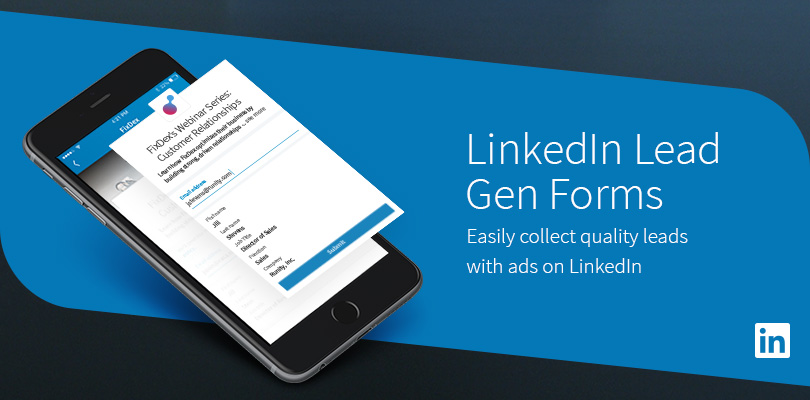 How to Use LinkedIn Lead Gen Form Ads
Lead Ads are the best solution to gather potential customers across LinkedIn. Lead ads offer prospects the possibility to express their interest in a service, product or event by filling out a form. The form will be completed with the requested information and then it will be shared with the company who advertised.
This is an efficient way to find relevant leads on LinkedIn and now, with the help of Maple Forest you will can learn how to set up a LinkedIn campaign that collects downloadable leads.
Before we start showing you the implementation process, keep in mind that your ad must be relevant enough to win qualified leads. Think about what's important to your target audience and what creatives will attract them. Answering these questions will help you choose the right offer that would have a high value to your audience, e.g.:  reports, case studies, e-Book or even a free consultation.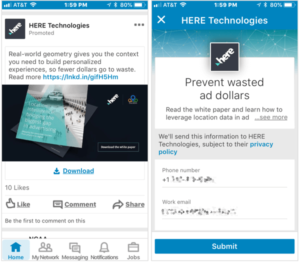 #1 Launch your first LinkedIn Lead generation Ad
1. To get started, go to your LinkedIn home page and click on "Advertise"(top right corner) or go directly to www.linkedin.com/advertising

2. On the next page, click Create Ad

3. When the LinkedIn Campaign Manager dashboard opens, click Create a Campaign.
4. Select the right Objective: Conversions – Lead Generation

5. Now you can set up the campaign. At a first sight you'll notice that it looks similar to the Facebook Ads layout.
6. Create the right audience, or if you already have one, select a saved audience. Be very careful with the feature: "Audience Expansion", it might interfere with the A-B testing campaigns results. Never select it when you are testing audiences.
If you need to work around a small budget a micro-targeting outreach approach can work well. In this case, you can target an audience from a specific group or a particular group of companies on LinkedIn.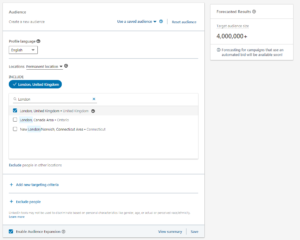 7. Choose a media format: Single Image Ad, Carousel Image Ad, Video Ad, Message Ad.
There isn't a specific format that works better for lead ads, so you should test to see which formats result in the most conversions.

8. Select the placement (in this case you don't have a variety of options) and the set up the budget & schedule.
When it comes to bids, you need to pay more attention to this phase. Let's say you want to test a campaign, we recommend that you start with a minimum of £50 per day and it would be helpful to set the bid higher than the suggested bid (eg., if the suggested budget is £4.94, go with £5.5 or even £6).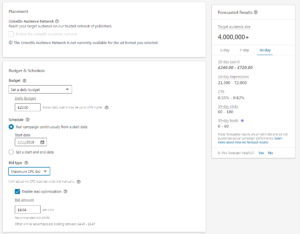 9. Track conversions by selecting or creating a conversion. Conversion tracking helps you to measure and optimize the actions visitors take on your website after seeing your LinkedIn ad, like completing a form or registering for an event.

10. Click on "Save and next"
11. Click on "Create new ad"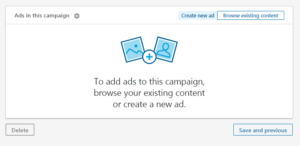 12. Create the content of the Ad. Keep in mind to create different ads with different content for A-B testing. You might see big differences between the ad results based on the ad creatives: Ad Image, Headline, Description & Call-to-action.
In this phase, you will have to create a Lead gen form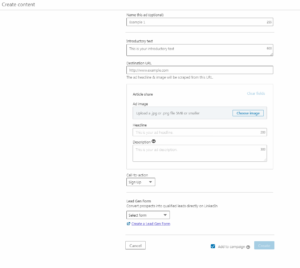 13. To build a lead gen form template, click "Create a Lead Gen Form". In the next window, add a form name, describe your offer, and enter the details about your privacy policy.
Now decide what info you want to collect on your lead form. The default settings are First Name, Last Name, and Email Address. The fields you choose will be prefilled for the LinkedIn member based on their profile.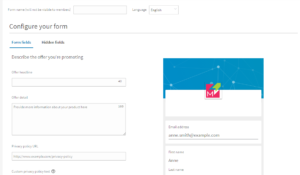 Scroll down to add questions to your form, even to create a checkbox.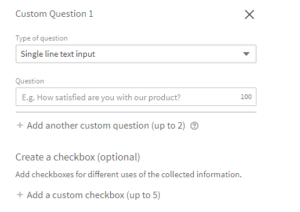 The final step to building your form is to customize your thank-you message, which is optional. This is the message that members will see after they submit your form.
You can also enter the URL you want people to visit after they complete your form and select a call to action to display on the thank-you page. Click Save when you're done.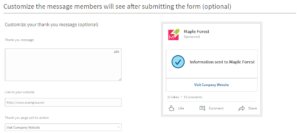 The last step is to review your campaign details and launch your LinkedIn ad campaign.
Should you like to use this tool to expand your client database or you need help with your LinkedIn Ads, let's talk!